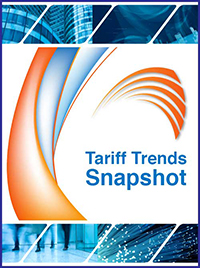 In SnapShot 100 TCL has identified the key trends over the past five years, with the 100th SnapShot we review some of them, including:
1. Disruptive MNOs – with the impact on the market of new MNO entrants
2. MNO Consolidation – the impact of MNO acquisition and mergers
3. Emerging Market MNOs – the changes in emerging markets over 5 years
4. Handsets & Smartphones – the increase in mobile Smartphone penetration worldwide
5. Pre Pay & Post Pay services – a slight increase in Post Pay services used worldwide
6. Premium Bundles – an increase in mobile data, roaming & international calls
7. LTE Data Adoption – 4G LTE services has entered the mainstream in all markets
8. Mobile Content services – Mobile Content is being used as part of a premium bundle
9. Pricing Changes – Most price reductions are due to a fall in bundles, or a rise in the amount
10.Integrated Bundles – Integrated bundles (voice, SMS & data) is becoming standard.
Agenda:
1. Introduction – The main changes over 100 SnapShots
2. The ten key changes over the last 5 years
3. Conclusions – The key trends happening across all markets
SnapShots published to-date