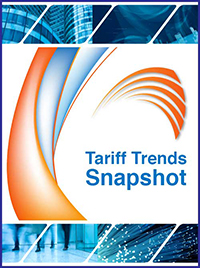 In SnapShot 106, TCL provides an update of Indian Mobile Services. It follows on from SnapShot 97, published in August 2017, which provided a survey of the impact of new MNO entrant Jio on the market.
Over the last six months, there have been a number of changes in the Indian market, with new pricing, mobile data bundles and promotional packages introduced by the largest Indian MNOs.
The size of mobile data allowances have increased, with flat rate calls and additional bundles (including social media, video streaming and music streaming services) also being incorporated.
Indian MNOs have among the highest bundles of services combined with the lowest price points anywhere in the world as all providers follow the bundling initiatives taken by Jio.
Agenda
1. Introduction – Key changes in the Indian mobile landscape
2. Developments in Pre Pay mobile plans
3. Developments in Post Pay mobile plans
4. Conclusions – New Indian mobile plans
Key companies mentioned in this report include:
Airtel (India), Idea Cellular (India), Reliance Jio (India), Vodafone (India).
Related products
The Tariff Trends SnapShot Service 2018 includes the following SnapShots: