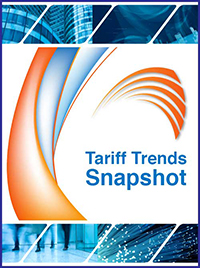 The Tariff Trends SnapShot Service now in its 7th year provides in-depth analysis of telecoms pricing issues in an easy to read PowerPoint format delivered 20 times a year available for GBP 1,995.00 or alternatively, indiviudal SnapShots can be purchased for GBP 295.00.
With the upcoming 20 issues - 2019 Tariff Trends SnapShot Series - TCL intends to provide analysis of key pricing topics in five main sections including the following:


Latest on trends on new services, mobile payment, 5G,


Regular hot topics – to include updates on the latest in Roaming pricing, IDD pricing 4G & LTE Pricing & Mobile Data pricing


The main mobile applications – to include surveys on the latest pricing for mobile voice, Messaging & Mobile Data


The key markets – to include surveys of pricing in emerging markets and selected MNO pricing strategies


Key Future Trends – Pricing for Segmentation


News and events – to include commentary and analysis on significant breaking news or events.



The TCL Tariff Trends SnapShot service draws on the expertise of analysts at Tariff Consultancy Ltd and uses our unique database of telecoms pricing worldwide.
Email us on info@telecomspricing.com for a trial issue.
Related Products: