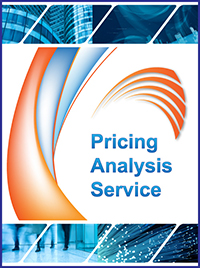 For a free 1-week trial, contact us on info@telecomspricing.com
About the service:
The new daily analytical newsletter TariffAlert focusses exclusively on the latest pricing issues in the mobile and fixed arena globally.
Each edition uses a mix of news, analysis, competitor offerings across each market and additionally includes analyst commentary to support it.
TariffAlert is unique. It does not just provide the daily output delivered straight to your inbox, it offers a monthly summary together with a searchable online access to more than 10k published stories on the portal.
A 12-month subscription includes:


Daily deliverable with key pricing stories, delivered by email or/and accessed via website.


Monthly summary allowing to select news by region, country, operator, by type of product.


Access to all stories - 10,000 and more, ever published on the www.telecomspricing.com using the search engine.


Key Benefits


Access to the library of pricing and pricing analysis across many services and countries for under GBP 3.00 per day. Searchable by key words


Analyst with over 30 years experience in pricing comments on the each slide.



The TariffAlert provides with more than just the information that is available from the operator's announcement, our analyst provides the finer details including comparing it with the old tariff and competitor's offerings
Related products: