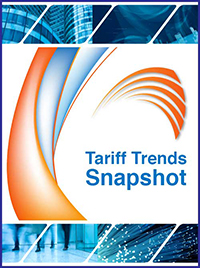 If you would like a complimentary copy of one of the below mentioned titles, please email us on info@telecomspricing.com.
The TCL 'Tariff Trends SnapShot' (Click here to view the press release) is a new subscription service which offers a snapshot of research into a key mobile or fixed line telecoms trend.
The service is published 20 times per year and can be either subscribed to as an yearly subscription or alternatively, individual issues can be purchased.
The 'Tariff Trends SnapShot' service is researched by analysts with more than 20 years of experience in pricing. The output is in PowerPoint allowing tables and charts to export straight into your report or presentation.
Below you find the titles of the to-date published SnapShots:
Individual Tariff Trends SnapShots are available at a cost of GBP 95.00 per issue.
Related Product
Telecoms Pricing Today
Tariff Trends SnapShot Service - 2014