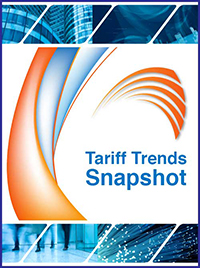 In SnapShot 113, TCL looks at the latest trends in Data Roaming worldwide. Over the past year there has been a sharp decline in overall pricing for Data Roaming, particularly in Europe, with the adoption of Roam Like At Home (RLAH) pricing, which appears to have been compensated for with the increase in new subscribers – with a gradual decrease in the number of "silent roamers" taking place.
But other regions outside Europe are also seeing growth in Data Roaming, and are offering lower cost roaming bundles and some RLAH bundles to selected countries with premium tariff plans. Data roaming is becoming more common to more and more users.
Agenda – Data Roaming Bundles Worldwide
1. Introduction – The growth in Data Roaming services
2. The growth in Data Roaming bundles in Europe
3. The growth in Data Roaming bundles in North America
4. The growth in Data Roaming bundles in the Asia Pacific
Conclusions – The changes in Data Roaming services
Key companies mentioned in this report include:
3 (Sweden), AT&T (USA), Bell Mobility (Canada), Bouygues Telecom (France), Free Mobile (France), Maxis (Malaysia), Optus (Australia), Orange (France), Rogers (Canada), SFR (France), Singtel (Singapore), SmarTone (Hong Kong), StarHub (Singapore), Swisscom (Switzerland), T-Mobile (USA), Tele2 (Sweden), Telstra (Australia), Telus (Canada), Verizon (USA) & Vodafone (Italy).
Deliverable
PowerPoint 31 slides packed with information and pricing examples.
Related products:
1-year subscription to Telecoms Pricing Today - Daily
The Tariff Trends SnapShot Service 2018 includes the following SnapShots: