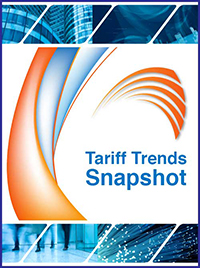 The Tariff Trends SnapShot Service now in its 6th year provides in-depth analysis of telecoms pricing issues in an easy to read PowerPoint format delivered 20 times a year available for GBP 1,495.00 or alternatively, indiviudal SnapShots can be purchased for GBP 245.00.
With the upcoming 20 issues - 2018 Tariff Trends SnapShot Series - TCL intends to provide analysis of key pricing topics in five main sections including the following:


Regular hot topics – to include updates on the latest in Roaming pricing, 4G & LTE Pricing & Mobile Data pricing


The main mobile applications – to include surveys on the latest pricing for mobile voice, Messaging & Mobile Data


The key markets – to include surveys of pricing in emerging markets and selected MNO pricing strategies


Key Future Trends – to include surveys of the impact of OTT players, predictions for 2016, key mobile applications and the impact of new services.


News and events – to include commentary and analysis on significant breaking news or events


SnapShots published as part of the 2018 series include:

The TCL Tariff Trends SnapShot service draws on the expertise of analysts at Tariff Consultancy Ltd and uses our unique database of telecoms pricing worldwide.
Email us on info@telecomspricing.com for a trial issue.
Related Products: