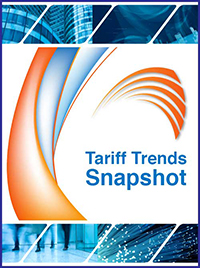 With this SnapShot 120, the first to be published in 2019, TCL forecasts the Top 10 Trends for 2019 for mobile operators worldwide.
TCL has been providing an annual Top 10 Trends forecast with the start of every year, this time we also look back at the forecast we made in 2018, not only whether they came true but the conditions that acted as constraints on the forecasts being met.
2019 is likely to see a continuation of existing trends, primarily as mobile markets are now in a mature phase worldwide. The emphasis is on rationalizing products & pricing, and also offering new bundles as a means of differentiation.
Into this mix will arrive 5G services from Q2 2019, with much depending on spectrum and handset availability. Initially 5G is unlikely to change market dynamics, as it will probably be priced at a premium with initial handsets also being charged at a premium.
Agenda – The Top 10 Forecast Trends for 2019
1. The Top 10 Forecast Trends made in 2018, and how we fared in practice
2. The Top 10 Forecast Trends for 2019
3. Conclusions – Evolution rather than Revolution, even with the launch of 5G services
Deliverable
PowerPoint 31 slides packed with information and pricing examples.
Related products: